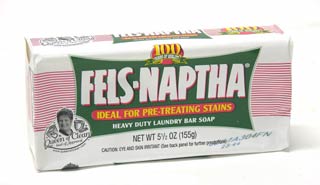 I love a good laundry tip. My mom is kind of like my queen of clean.  Whenever I'm stumped for how to clean something, I give her a call.  She LOVES to clean and she loves laundry.  She really loves to find the most effective methods to keep clothes looking their best.
I take after her, I guess.  I hate to admit it out loud, but I really do like doing laundry.  I especially like it in the winter, when I pull warm laundry out of the dryer.  It smells so good and warms me right up while I fold.
I was talking to my mom last spring about what tips she loves best for laundry.
My dad wears a suit and tie to work and his shirts sometimes get ring around the collar.  She told me she swears by Fels-Naptha Soap
to get the ring out.  She simply wets the collar and rubs it with the bar of soap.
My husband's work is much more casual.  Dressing up for a meeting might mean he puts on a button down shirt… no tie.  So ring around the collar isn't a problem for me.
But, I picked up a bar of Fels-Naptha Soap
at the grocery store anyway.  It was very inexpensive and on the laundry isle at my local grocery store.
Lucky I did too.  It worked like a champ on the chocolate milk my son spilled on his shirt.  I've also used it on his baseball uniform that had mud on the knees.  It worked great on grass stains as well.  After I wet and rub the clothes with the bar, I let it sit for a few minutes and then throw them in the laundry.
I've found I actually like it better than Spray n Wash which I have used for years.  The Spray n Wash bottle drives me batty because it stops spraying after a minute of holding my bottle horizontal to spray the stain.
Spray in wash is also messy… and too perfumy, at least in my book.
Fels-Naptha Soap
feels old fashioned and aesthetically pleasing, but the best part is how well it works.  It's inexpensive and the bar seems like it's going to last forever.  Thanks for the great tip mom!
I just wish I could take after my mom and find a way to enjoy ironing…

22 Responses to "Laundry Tip for Stains"