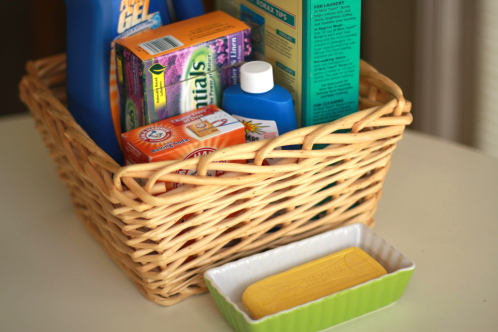 Today it's another $25 Gift Card Giveaway courtesy of the good folks at the Arm & Hammer Switch & Save Challenge.  But before I get to the giveaway, I wanted to share a few of my favorite laundry organization tips.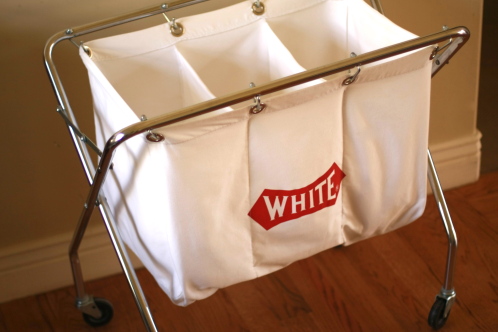 1. A laundry sorter is awesome.  I have a three divider rolling laundry sorter that fits under my counter in my laundry room.  I picked it up at an outlet store for a super deal over 10 years ago and it is still going strong.  It keeps my laundry room tidy, and makes it easy for me to see when I have a full load.  My rolling basket works great, but if you are remodeling, my mom has a built in cabinet with 4 large drawers to hold her loads of laundry- one for whites, mediums and darks and one for delicates.
2.  Keep your laundry supplies neat and stylish in a basket.  I picked up an inexpensive basket for holding my box of dryer sheets, laundry detergent, and stain fighting products.  I also have a cute little dish for my bar of laundry soap.  The basket looks so much better than having the laundry supplies spread out all over the laundry room.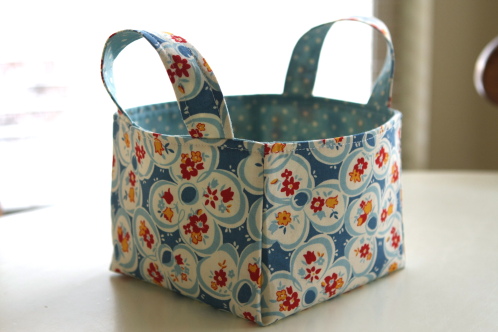 3.  I love my fabric sock basket!  I made my laundry sock basket last winter and it is the perfect solution for those inevitable stranded socks.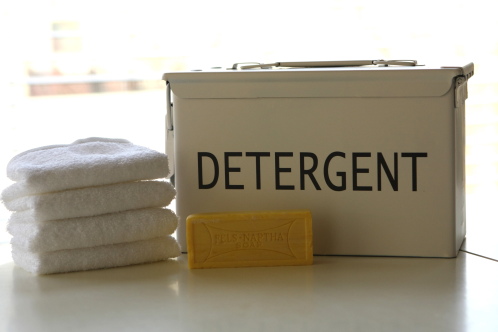 4.  I also love my powdered laundry detergent container made from an old ammo box last winter.
Having my laundry room neat, organized and cheerful makes doing the big job of laundry so much easier.  And now for the $25 Visa Gift Card Giveaway.  To enter leave a comment answering:
On a scale of one to ten how organized is your laundry?  1 for it's total mess and 10 if you have a laundry room that could be in a Better Homes and Gardens magazine shoot.
Or if you have any favorite laundry organization tips shout them out instead.
The Rules:
Contest closes on Thursday, September 15th, 2011 10:00 MDT
Only one comment per person please.
Random winner will be announced on Friday, September 16th
Be sure to head over to the Arm and Hammer Switch and Save website and enter for a chance to win $25,000!
- – - – - – - – - – - – - – - – - – - – - – - – - – - – - – - – - – - – - – - – - – - – -

This is a sponsored post for Church & Dwight Co., Inc, the maker of ARM & HAMMER branded products, who is paying me to try different products. Save $1.00 on ARM & HAMMER Essentials Fabric Softener Sheets.  And then head over to The Switch & Save Challenge to keep up with all of the bloggers and enter to win $25,000.

95 Responses to "Laundry Tips and Gift Card Giveaway"