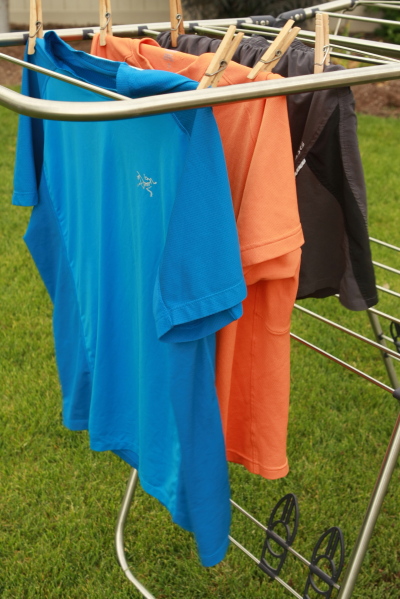 As part of the Arm and Hammer Switch and Save Challenge I have a few more tips on dealing with dirty laundry.
When I asked about your biggest summer laundry challenges there was A LOT of discussion about stained and stinky laundry. Here are a few solutions that are working for me:
First, conquering smelly laundry:  I wrote about my husband's smelly running clothes last summer…  after discovering the power of baking soda to conquer the sweaty stink.  Since then, I've refined my process even more.  I've found that if I use 1/4 cup baking soda in the pre-wash dispenser and 1/2 cup vinegar in the fabric softener dispenser of my front load washer it works wonders for removing the stinky running smell.  I use a HE front loader washing machine, but this process can also be achieved with a top loader by simply adding 1/2 cup baking soda in the wash cycle and waiting to add 1 cup of vinegar when the rinse cycle starts.  To really knock out any lingering smell, hang your clothes outside to dry on a clothesline. Sun and breeze work wonders on smells.  This wash and dry treatment is always enough to tackle even the stinkiest clothes my husband can produce.
Here's another stinky wash problem some of you might have faced.  Sometimes I forget to take clothes out of the washing machine for a day or two… and the clothes take on an awful mildewy odor.  I used to rerun the whole load… which seemed SO wasteful.  Nowdays, I sprinkle in 1/2 cup baking soda right on top of the load and run a "rinse and spin only" cycle.  This is so much better that running the whole load through a complete cycle again.  Unless the clothes are really stinky, this has been enough to freshen them up.  Plus adding the baking soda to the rinse really softens the clothes up nicely.  The best solution is not to leave clothes in the washer… ah huh…  hopefully someday I'll be that smart.
Last but not least, since I started using Arm and Hammer plus Oxiclean Power Gel Laundry Detergent over the last month and a half, I've experimented with it as a pretreatment on some nasty stains.  I simply rub the gel detergent right on the stain before washing.  This trick has worked great for removing more stubborn stains that might not have come out without pretreating… ie. grass stains on the jean knees and ketchup spilled down the front of a t-shirt.
OK, enough stain talk, are you ready for another giveaway?   Enter for a chance to Win a $25 Visa Gift Card compliments of the Arm and Hammer Switch & Save Challenge.
To enter leave a comment completing the sentence,  "I could use $25 for…. " Fabric…. or a night out with my husband to the movies or to Five Guys for their outrageously good french fries with some malt vinegar sprinkled on top (not a very healthy craving I have at the moment)… or flowers for my garden… or some new flip flops – well that's what I might spent it on anyway.
The Rules:
Contest closes on Thursday, June 23th, 2011 10:00 MDT
Only one comment per person please.
Random winner will be announced on Friday, June 24th
Be sure to head over to the Arm and Hammer Switch and Save website and enter for a chance to win $25,000!  How fun would it be to win $25,000?!   Let's see… how would I spend that?
****** This is a sponsored post for Church & Dwight Co., Inc,  the maker of ARM & HAMMER branded products, who is compensating me  to try different products. Click here for a coupon to Save $1.00 on any 2 ARM & HAMMER Laundry Detergents.

127 Responses to "Laundry and a $25 Visa Gift Card Giveaway"