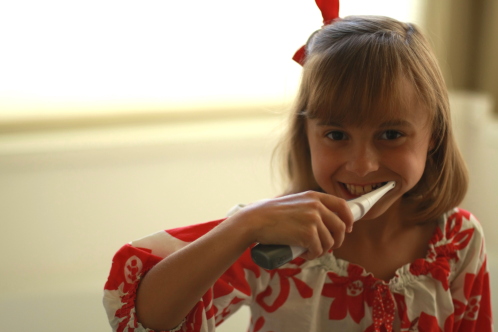 The Arm & Hammer Switch & Save Challenge is coming to an end with this post and giveaway.  Arm & Hammer Baking Soda is my longtime favorite product for cleaning (and cookies!), but I had never really tried Arm & Hammer's other products.  I've been so impressed how they've matched up both in price and quality with the products I've used in the past.
Since the last product I received to review was the Arm & Hammer Spinbrush ProClean Toothbrush, I thought I'd share how our family makes it do by reusing an old toothbrush.
It's a trick I learned from my mom.  She's famous in our family for her cleaning prowess and it's a family joke that she is such a careful cleaner that she cleans with a toothbrush.
It's no joke though.  An old toothbrush is an invaluable cleaning tool.
My mom scrubs the grout in her showers, the hard to reach spots behind the faucet on a sink, and in the corners of just about everywhere with an old toothbrush.
Nothing beats a toothbrush for getting into crevices and crannies that can't be reached with a cloth or a sponge.
I even use an old toothbrush and gentle toothpaste to clean my wedding ring.
So next time you are ready for a new toothbrush, be sure to save the old one for the cleaning bucket.  You'll be glad you did.
And here's one quick tip.  I like to mark a cleaning toothbrush with a sharpie pen.  That way the kid's don't accidentally try to use the one that was used to scrub the tub!
Now for a $25 Visa Gift Card Giveaway:
To enter simply leave a comment on this post answering the question:
"What's your favorite item to reuse?"
By the way,  I loved reading all the ways you keep your families healthy.  There are some great tips in there that I can't to try… and many others I said AMEN to.
The Rules:
Contest closes on Thursday, October 13th, 2011 10:00 MDT
Only one comment per person please.
Random winner will be announced on Friday, October 14th
- – – – – – – – – – – – – – – – – – – – – – – – – – – – – – – – – – – – – – – – – -
This is a sponsored post for Church & Dwight Co., Inc, the maker of ARM & HAMMER branded products, who is compensating me to try different products. Get a $4.00 coupon for ARM & HAMMER Spinbrush then head over to The Switch & Save Challenge where you can enter to win $25,000.

86 Responses to "Giveway Day!"