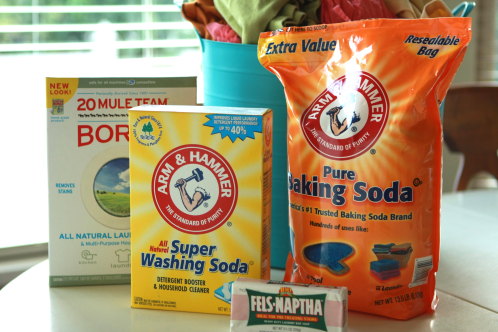 Have you ever made your own laundry soap?
I had been wanting to for a while and this summer, when I ran out of my usual detergent, I finally got around to it.
My criteria for good laundry soap was a powdered soap that needed to work really well, I wanted it be as earth-friendly as possible, and it need to be cheap.
Summer was the perfect time to try out a new detergent.  My summer laundry is D-I-R-T-Y.  Dripping chocolate ice cream cones, sweat, mud, campfire smoke, and grass stains are just a few challenges for our soap trial.
I looked around for a recipe that looked right to me and found a great recipe at a site called Great Oak Circle.  She even stores her soap in wonderful mason jars and shares a very cool printable label.
The ingredients in the recipe were all things I already use in my laundry already- Borax, Fels-Naptha, Baking Soda and Washing Soda.  All the ingredients are easy to find inexpensively at my local grocery store.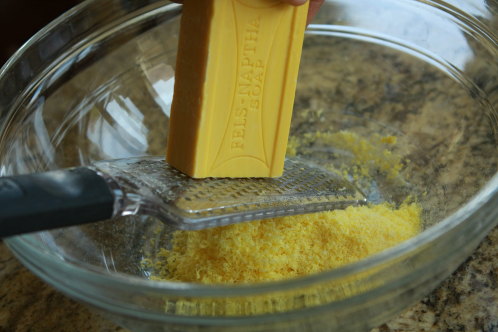 I used my Microplane to grate the Fels-Naptha soap.  It worked like a charm and I liked that the pieces of soap were grated small.  Fels-Naptha doesn't have a perfect environmental score, but it's not too shabby either.  And it's awesome at taking out stains.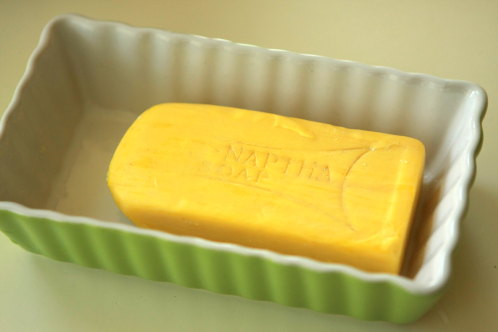 One quick Fels-Naptha tip:  I use a bar for getting out stains in my laundry.  It really works better when the bar is a little wet.  So I bought a small dish (from a cooking store) and when I start laundry I put a little water in the bottom of my dish.  Then I stick one end of the soap in the water.  When I come across stains it's wet and ready to work.  When I'm done I dump the water out (usually on the stains) and use the dish to store my soap.
The dish looks cute in my laundry room and keeps my bar of soap nicely.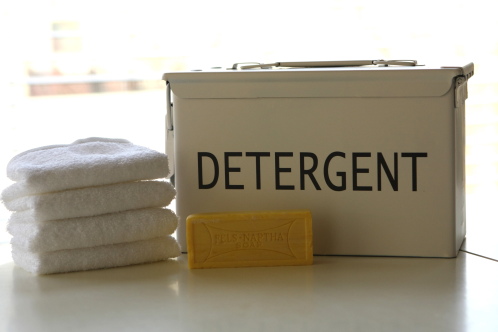 Speaking of looking cute in my laundry room, the detergent tin I made from an ammo box over a year ago is still one of my favorite things.  It's perfect for storing my homemade soap.
After a good trial, the results of my detergent are in.  I love homemade laundry soap!  It's much cheaper than my old detergent.  I only use 2 tablespoons in my HE washer and my laundry is clean and smells really nice.  I love that I know all the ingredients in it and that it's mild for the environment and my family.  You can even add a little essential oil to your soap to customize your laundry scent.
It doesn't take long to make months worth of soap and is well worth it.  Plus there something about making your own laundry soap that is very satisfying.
If you make your own soap, I'd love to hear your favorite tricks and tips.  If you'd like to try making your own soap, here is a link to the recipe on Great Oak Circle.

7 Responses to "DIY Laundry Soap"