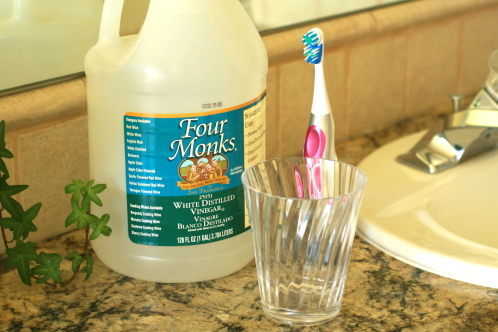 Today it's another installment in the Arm & Hammer Switch & Save Challenge.
Since school started my family has been plagued with little niggling coughs and colds.  What's up with that?
Last year one of my kids received a perfect attendance award.  We hardly were sick a single day in the whole school year.
This year is a different story.  We have a good bedtime routine, so I can't blame it on lack of sleep, but for whatever reason, we've just not been up to snuff.
Even I've had a bad cold and I'm guessing a sinus infection the last few days.  Yuck.
Whenever my family has been sick and rundown, I like to wipe down door handles and light switches throughout the house to get rid of lurking germs.
I also try to remember to clean our toothbrushes.  What better place for a germ to hide?
Here are a few good ways to clean your toothbrushes:
Pour enough straight vinegar in a cup to cover the head of your toothbrush.  Soak overnight.
I often use hydrogen peroxide to clean our toothbrushes.  Mix 1 teaspoon of hydrogen peroxide to 1 cup of water.  Pour enough into a cup to soak the head of your toothbrush.  Soak overnight.  Rinse before using in the morning.
When I was little and one of us kids had strep (or some other nasty bug) my mom used to put our toothbrushes into a mug and pour boiling water over them to get rid of germs.
With a little effort on my part, I'm hoping to nip this sick trend in the bud.
Now for a giveaway!
I'm a so happy to be able to offer another $25 Visa Gift Card courtesy of the Arm & Hammer Switch & Save Challenge.
To enter to win answer the question:
"What's your favorite tip to keep you or your family healthy?"
The Rules:
Contest closes on Thursday, September 29th, 2011 10:00 MDT
Only one comment per person please.
Random winner will be announced on Friday, September 30th
- – - – - – - – - – - – - – - – - – - – - – - – - – - – - – - – - – - – - – - – - -
This is a sponsored post for Church & Dwight Co., Inc, the maker of ARM & HAMMER branded products, who is compensating me to try different products. Get a $4.00 coupon for ARM & HAMMER Spinbrush then head over to The Switch & Save Challenge where you can enter to win $25,000.

65 Responses to "A Clean Toothbrush plus a Giveaway!"