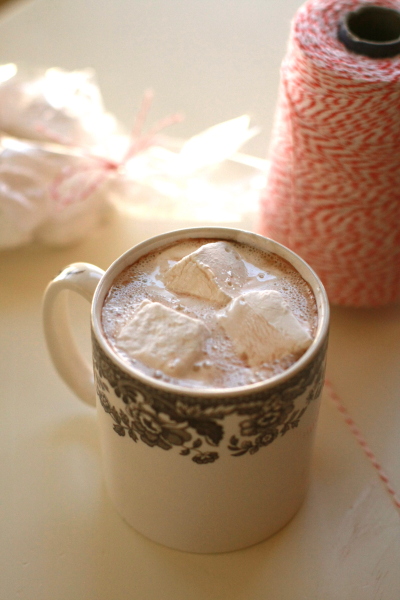 It seems like it should be December 15th, but two empty spots on our Advent say different.  Ready or not, Christmas is here.
I'm good though…  I'm deliberately choosing NOT to worry about what I didn't get done.
Instead I'm trying to enjoy these last few days before Christmas is here…. like drinking a cup of Peppermint Hot Chocolate while I'm packaging up homemade marshmallows to give as gifts…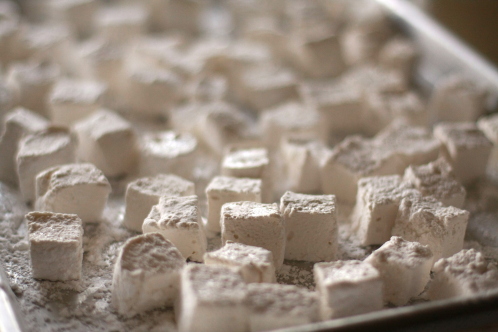 My son and I made the marshmallows together this week.  We used a wonderful and easy recipe from Ina Garten.
I did ruin my first batch which never whipped up to the fluffy consistency I was expecting, but stayed on the sticky, runny side.  I was pretty sure it was because the candy hadn't been cooked long enough, even though I had used my candy thermometer.
On the second batch I decided to spot check my boiling sugar mixture by using the cold water method.
If you haven't tried this method before, here's a brief explanation.  I checked my sugar mixture when it reached 240 degrees Fahrenheit on my thermometer, by spooning a little candy into a clear glass of cold water.  When my candy dropped to the bottom of my cup like a pile of thread, and didn't form a ball, I knew my thermometer was reading wrong.  I cooked for a minute more and checked again in the cold water… YEAH!  a soft ball this time.  Meaning the ball formed can be flattened out easily.
Using the combination of my inaccurate thermometer and the cold water test, my next two batches went off with out a hitch.  My son loved watching the process of making the candy on the stove, but thanks to the high heat and danger on burns, I took care of the stove work, while he took care of all the measuring, mixing and preparing the pans.
When the marshmallows were ready to be cut, (which takes a minimum of 4 hours, but preferably overnight) I cut up the marshmallows into cubes using kitchen scissors while my son pressed the newly cut sides into powdered sugar to keep them from being super sticky.  Just for fun I tried using my knife to cut and went right back to the scissors which were awesome for the job.
The only main change we made to Ina's recipe was cutting down the 1 tablespoon of vanilla a bit.  My son felt like the first batch had too strong a vanilla flavor.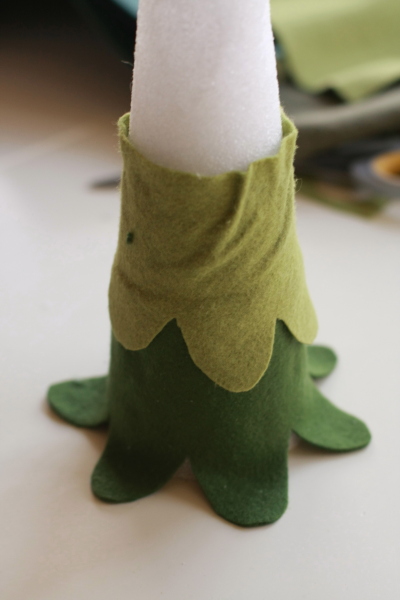 The other project I'm working on is a few little felt Christmas trees.  This is another trial and error project.  See how the felt is twisting a bit?  It's because I was using my hot glue gun.  After seeing how well the hot glue worked… NOT.. I decided pinning worked much better.  I think the project should be easy to finish now that I've put the gun away.  Plus my girls wanted to help and with the pins they can.
The last project that I really hope to finish is my kids cozies (pajama pants) we give on Christmas Eve.  I already picked up the fabric and matching tees… but if I don't get them done, I'll survive.  If I'm feeling spunky tonight after the kids are in bed, I may just get them done.  They really don't take too long.

4 Responses to "Homemade Marshmallow Recipe"