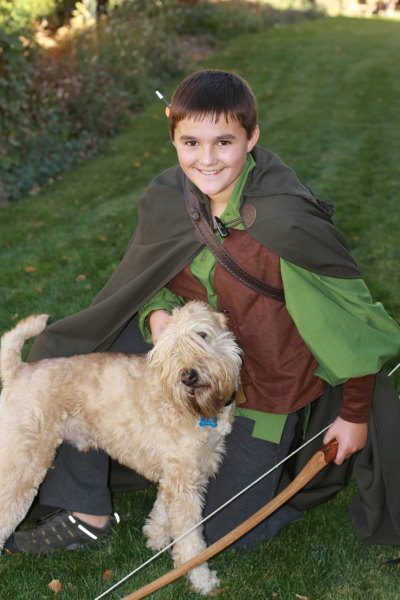 Since my good intentions went by the wayside, and I didn't have a chance to post photos before… or even on Halloween, I thought I'd share some of what has been keeping me busy for the past week.
Ben was Robin Hood this year.  I was so happy that at least we were able to recycle a cloak from his Ranger's Apprentice costume from a few years back.
I sewed him a new shirt, vest and arm guards to complete his costume.  I love his old wooden bow that once belonged to his great grandfather.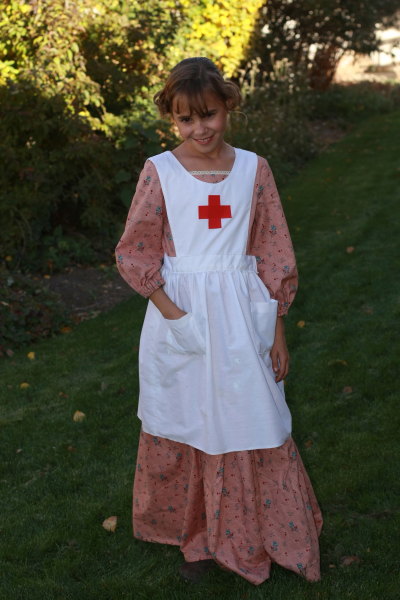 Lily was Clara Barton, sans the hoped for hoop skirt.  We tried putting her very full tutu under the skirt, but it was too much for the nurse's pinafore… but she is so sweet that she was just happy with her full length dress.  The original costume I used was for a Colonial dress, but I modified the arms and the neckline to "try" to give it a more Civil War sensibility.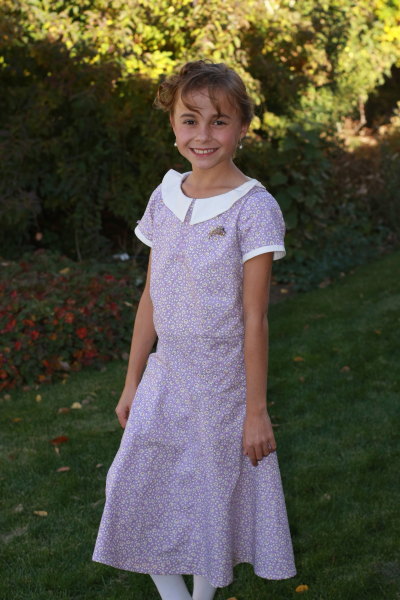 Emma was the wonderful Eleanor Roosevelt.  Again, I couldn't find a 30′s style dress pattern for girls so I modified an existing pattern.  The original pattern had an empire waist and no collar, but the skirt wasn't gathered on the pattern, so I thought it would work.  Adding a collar to a dress is MUCH harder than I thought it would be… I really wanted to make a belt, but ran out of time, but in the end Emma and I were still happy with how her dress turned out.
We had a very fun filled Halloween with friends and family.  I am very happy to say I even have a small stash of Butterfingers thanks to the generosity of my kids.
I'll end with a few wonderful quotes from Clara and Eleanor:
I have an almost complete disregard of precedent, and a faith in the possibility of something better. It irritates me to be told how things have always been done. I defy the tyranny of precedent. I go for anything new that might improve the past. -Clara Barton
You can often change your circumstances by changing your attitude. -Eleanor Roosevelt

Every time you meet a situation you think at the time is an impossibility and you go through the tortures of the damned, once you have met it and lived through it, you find that forever after you are freer than you were before.  – Eleanor Roosevelt
6 Responses to "Quick Halloween Wrap Up"