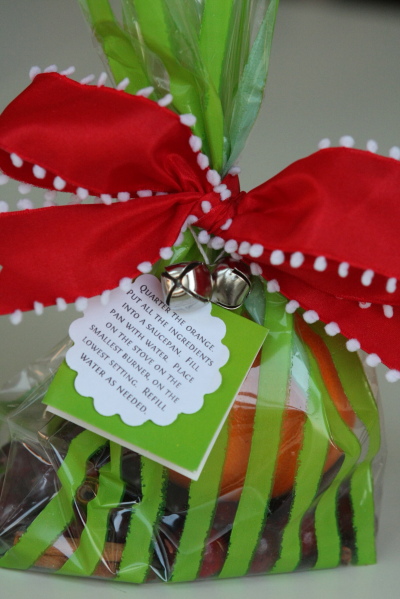 Several people commented or emailed asking for ideas on how I package the Stove Top Potpourri to give as a gift.
Here's a few ideas: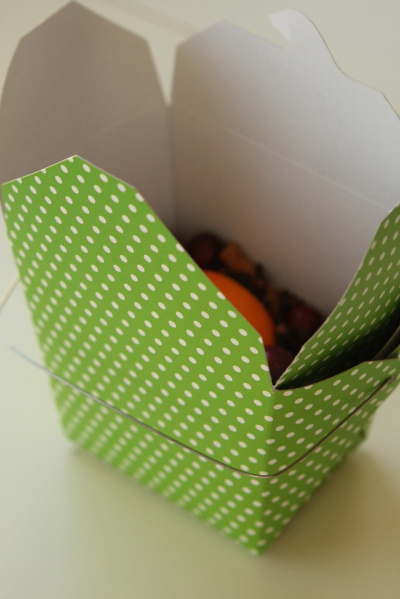 A decorative Chinese takeout box makes a perfect container for giving stove top potpourri.
The box is just the right size and I never get tired of their charm.  All it needs is bow on top and a tag on top with instructions and it's good to go.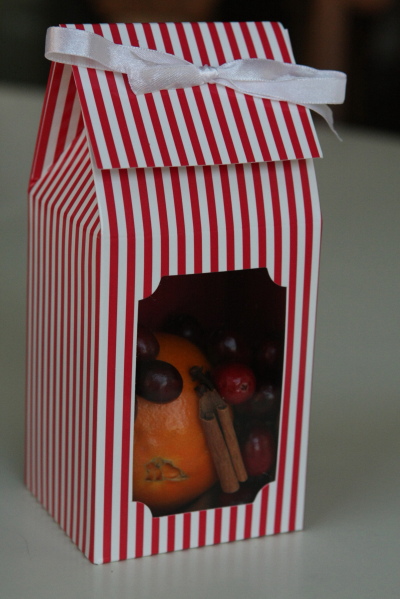 How about the great new boxes with a window?  I love how they look with potpourri inside.  I also love them with a stack of cookies.  Yum!  Martha Stewart sells them at Michael's.  This box is from American Crafts (Yeah!  I got it on their sale!)  And all it needs a tag.
Last but not least: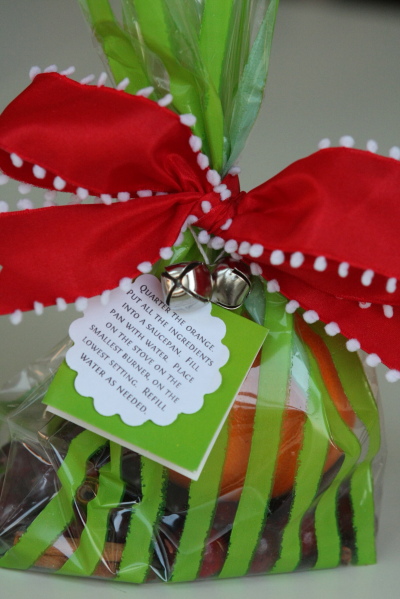 An inexpensive cellophane bag with a bow.  I love how the green stripes of this bag matches wonderfully with the orange inside and the red ribbon.  I've printed and punched out the instructions using my favorite 2″ Scalloped Punch
.  Then tie it up with a bow.  I also added a few jingle bells on the tag string for fun.
If you'd like to use the document I created to punch out my instructions, here it is.  I put as many instructions to a page that I could fit, since I was making 70 bags of potpourri.  I used a paper trimmer to cut columns and then punch, punch punch them out.  I used a Small Hole Punch
at the top of the tag so I could string it on my gift tag.
Just a little word about tools:  I am not big on having lots and lots of tools and gadgets- either in the kitchen or my craft space.  I have a few hard working craft tools that I use A LOT.  My 2″ scallop punch, my 2″ round punch, my small hole punch, and my paper trimmer are at the top of my list for hard-working, indispensable paper tools.
As for the Stove Top Potpourri, the holidays always arrive with a pot on my stove.  My home has smelled like heaven all weekend long… and the same pot of potpourri will last for weeks.  Yes it does turn dark and mucky looking, but it continues to smell heavenly.
Stovetop potpourri is a gem of a gift that costs very little to make and will be appreciated throughout the Season.
72 Responses to "One Gift- Three Ways"