Archive for the 'uncategorized' Category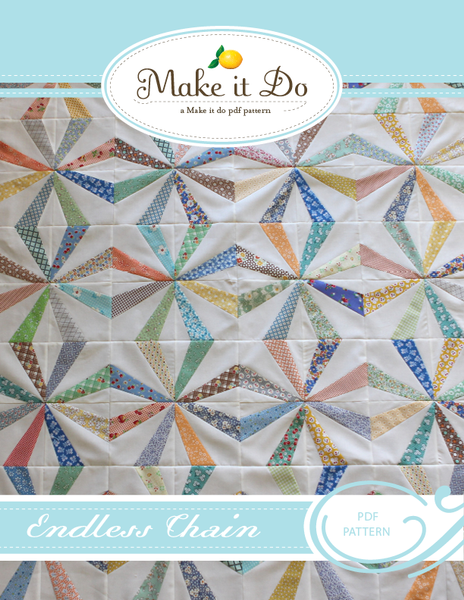 The Endless Chain pattern was inspired by a beautiful 1930s antique quilt.
The pattern uses foundation paper piecing. Its simple design makes it a great introduction to this technique.
The pattern is available for purchase in the Make it Do pattern shop.
Note: This is a downloadable PDF pattern.
The block size is 12″ finished.
Materials List for Throw Quilt – 60" x 72"
4-1/2 yards of assorted scrap fabric (smallest pieces must be at least 3" x 8-1/2")
5-1/4 yards of background fabric
120 copies of paper templates (page 7)
5/8 yard binding
4 yards backing fabric
batting of choice
Flatter or Best Press spray highly recommended
pins or washable glue stick
Purchasing Information:
Download links expire after 3 download attempts. Please download the pattern file to your computer for future use.
This pattern is a PDF file instant download. Please be sure to check your email address listed in your PayPal profile (or email address you entered), the instant download link will be sent to that email address.
Sell finished items! You (the purchaser of this pattern) can sell finished
thread catchers made using this pattern (on a home based scale).
If you choose PayPal's e-check option, the instant download will take 5-7 days for the e-check to clear and for the instant download link to be sent.
You do NOT need a PayPal account to purchase, simply enter a debit or credit card at checkout by clicking the 'Don't have a Paypal Account?' link.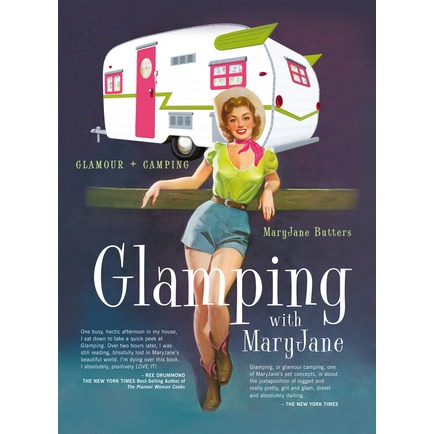 This past week I celebrated my birthday in my favorite way, by going camping with my family.
It was a perfect vacation – a lovely camp spot, perfect weather, and the best company a girl could hope for.  We fished, read, played card games, took pictures, and napped in the hammock.
For my birthday, one of my dearest friends gave me a copy of Glamping with MaryJane
.  I've been pouring over the book every chance I get.  It is full of wonderful ideas and advice for camping in style.  It makes me want the vintage Airstream that I've been dreaming of for years even more.  Someday I will.
For now I am as happy as can be with our awesome tent.  It may be heavy, but it is very comfortable and wonderfully sturdy.  We've camped in it in big thunderstorms, rain, even snow, and wind.  It has never failed us once and has always kept us dry and happy.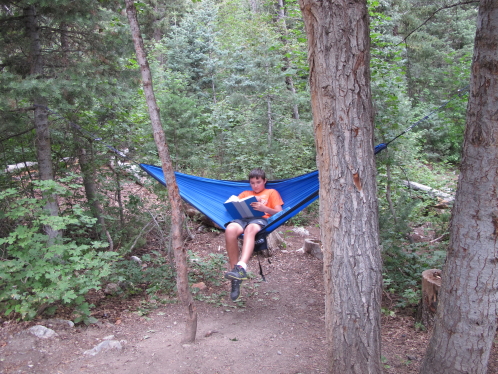 One of our other favorite camping accessories is our eno double nest hammock
.  It is definitely the favorite spot in our camp.  It's a chair, a bed and the best place to read and relax.
Since it is very wide and can hold up to 400 lbs, naps often get crashed by little visitors.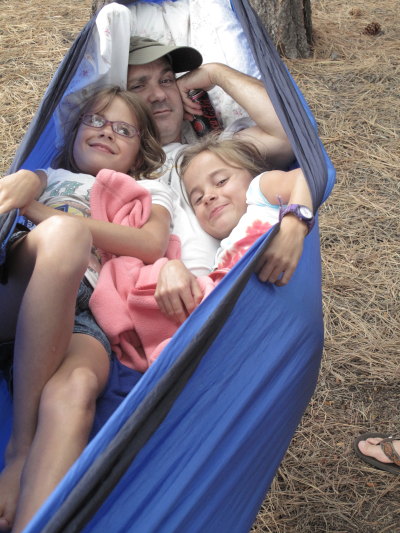 This is one of my favorite pictures of my husband and girls, taken last year on my birthday camping trip.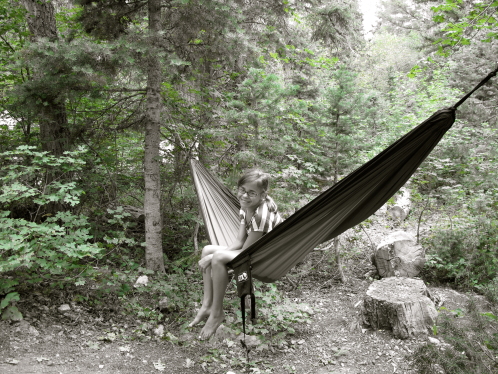 One more in the hammock… my girls got a little fancy with the settings on the camera and took a few cool pics…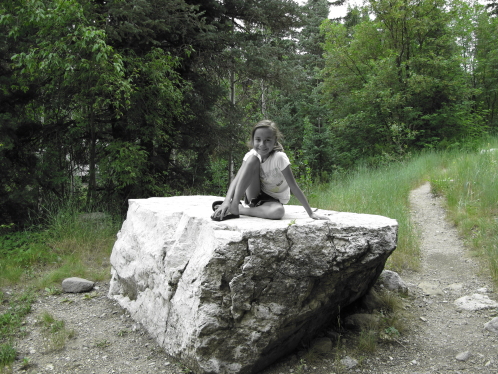 We are counting our lucky stars to live in such a beautiful state.
We were no sooner home when the kids were planning our next camping trip.  Let me get through the pile of laundry first my dears.  Then we can talk about it.
"Everybody needs beauty as well as bread, places to play in and pray in, where nature may heal and give strength to body and soul." – John Muir