Archive for the 'sew it' Category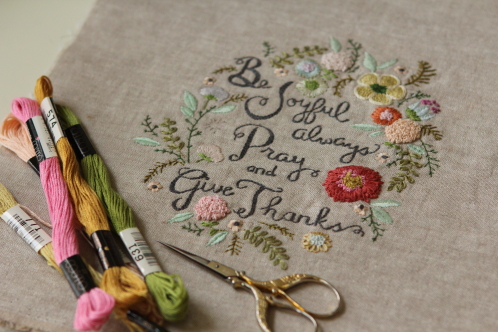 I don't have any finished projects to share today.
But I am in the home stretch of my "Be Joyful" embroidery, thanks to the few minutes I've had, before games and at half time, during a busy soccer season.  One last flower and a few last accents and I'll be done.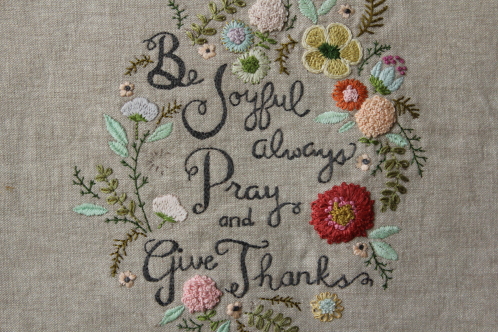 I've enjoyed every minute I've worked on this embroidery.  I love the admonition… be joyful ALWAYS.  Pray and give thanks.  It's been like a mantra for me as I've stitched.
I've made more than my share of mistakes on this embroidery.  Stitching on the essex linen was a bit of a challenge for me, since it likes to send the needle off my line just a fraction.  I'm not an expert embroiderer, so this embroidery has taught me a lot.  I've never done more French knots or lazy daisy stitches ever.
I've loved it so much that I'll be starting a new one this week… one as a gift and one for my home.
If you are interested in the pattern, it comes from Amy of nanaCompany.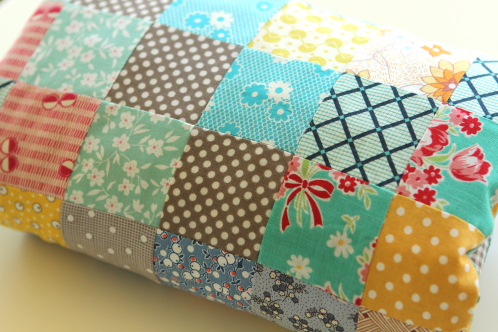 A few weeks ago I finished piecing my scrappy trip around the world quilt.
In the end, I made my quilt 6 blocks by 6 so the finished quilt is a nice sized throw at 72″ x 72″.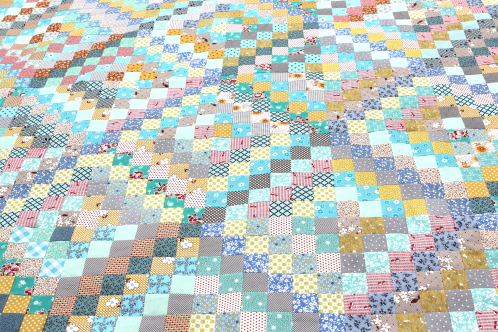 Today I'm going out to get the back.  I can't wait to baste it and get it ready to hand quilt.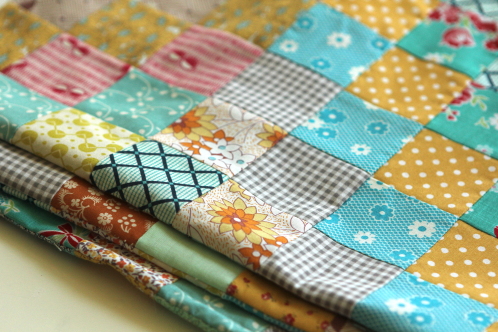 It will definitely take me forever to hand quilt… since it's big and I'm slow as molasses.  But I know I will enjoy the process, because I love the fabrics in this quilt so much.  It's an odd mix of 30′s and moderns… Denyse Schmidts, Lecien Old New, Storybook Classics and lots of old scraps.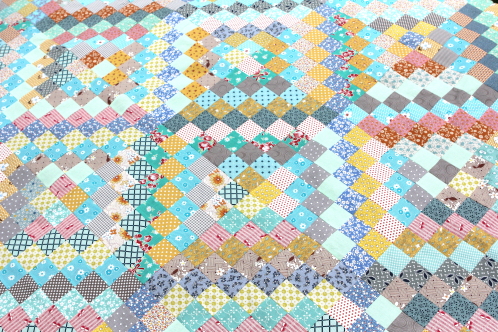 I also love the colors, which are slightly unpredictable together.  But a scrappy trip pattern lends it's self to wacky and unpredictable.  Somehow it all plays together and works.
Again with keeping things unpredictable, I made my blues the center of my blocks, but sometimes I put them one row off.  A few of the blocks have grey or turquoise in the center just to keep me on my toes.
I'm hoping to find a cozy flannel back for this quilt, since this is going to be another family-room-cuddle-under-quilt.  My hope is to finish quilting it before the snow flies…