Archive for the 'kids do' Category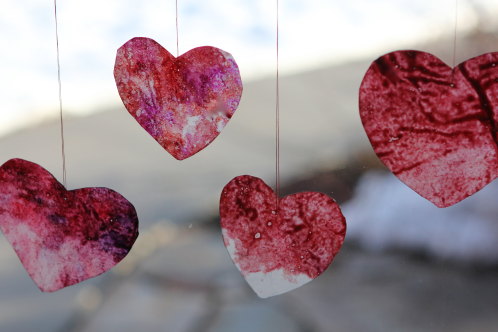 Yesterday afternoon my girls each invited over a friend to make crayon hearts using this tutorial from Martha Stewart.
They were so easy and fun to make.  And once we hung them in the windows, they prettily catch the light.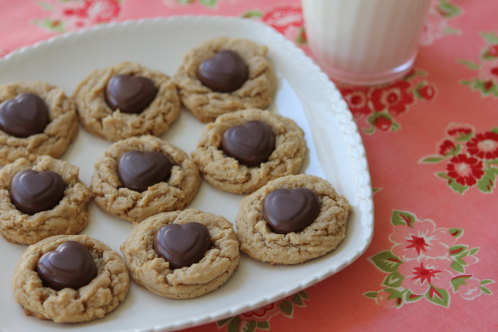 As an after school snack for the kids I made a plate of Valentine Peanut Butter cookies.  I had seen the idea of using chocolate hearts instead of Hershey's Kisses on Pinterest.
I used my own favorite recipe… and they turned out deee-licious and very cute.
My recipe comes from an old neighbor, Kim.  When Ben was in Kindergarten, he was over at her home playing with her daughter.  She served them these cookies, with chocolate chips in them, instead of the chocolate on top.  He liked the cookies so much, he asked her if she would share the recipe.  She was highly amused, needless to say, and sent him home with the recipe.
So here is the recipe for Kim's wonderful Peanut Butter Chocolate Cookies:
1 cup Butter, softened 1 cup Peanut Butter 1 cup sugar 1 cup brown sugar 2 eggs 1 tsp. baking powder 1-1/2 tsp. baking soda 1/2 tsp. salt 2-1/2 cups flour Chocolate Chips to taste, or Chocolate Hearts or Hershey's Kisses
Preheat oven to 375 degrees.  Cream together softened butter, peanut butter, sugar, and brown sugar.  Add eggs one at a time until well blended.  In a separate bowl, sift together flour, baking powder, baking soda, and salt.  With mixer on low, add flour mixture in batches until just mixed.
If you are adding chocolate chips, add them to taste. If you are putting the chocolate hearts or Kisses on top, skip the chocolate chips, but do not press the chocolate on top until AFTER baking.
Scoop cookies onto a greased cookie sheet and bake at 375 degrees for 8-9 minutes.  If making the chocolate heart or Kisses cookies, press the unwrapped chocolate into the hot cookies just after they come out of the oven.  Allow to cool before serving, or the chocolate will be very messy!
Makes approx. 4-1/2 dozen cookies.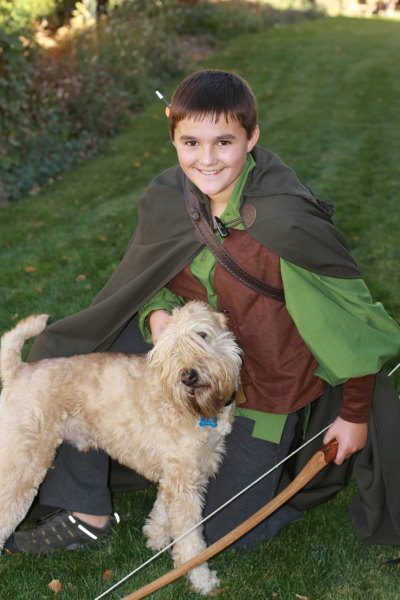 Since my good intentions went by the wayside, and I didn't have a chance to post photos before… or even on Halloween, I thought I'd share some of what has been keeping me busy for the past week.
Ben was Robin Hood this year.  I was so happy that at least we were able to recycle a cloak from his Ranger's Apprentice costume from a few years back.
I sewed him a new shirt, vest and arm guards to complete his costume.  I love his old wooden bow that once belonged to his great grandfather.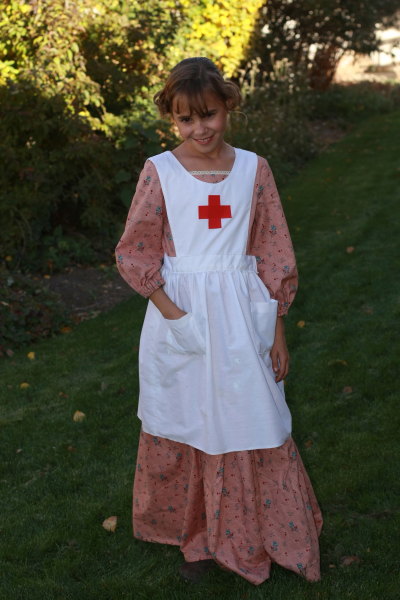 Lily was Clara Barton, sans the hoped for hoop skirt.  We tried putting her very full tutu under the skirt, but it was too much for the nurse's pinafore… but she is so sweet that she was just happy with her full length dress.  The original costume I used was for a Colonial dress, but I modified the arms and the neckline to "try" to give it a more Civil War sensibility.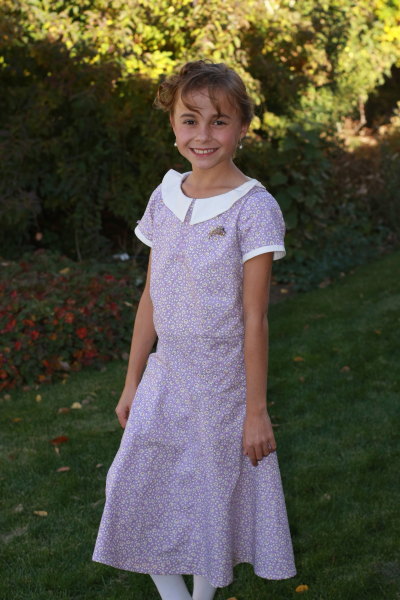 Emma was the wonderful Eleanor Roosevelt.  Again, I couldn't find a 30′s style dress pattern for girls so I modified an existing pattern.  The original pattern had an empire waist and no collar, but the skirt wasn't gathered on the pattern, so I thought it would work.  Adding a collar to a dress is MUCH harder than I thought it would be… I really wanted to make a belt, but ran out of time, but in the end Emma and I were still happy with how her dress turned out.
We had a very fun filled Halloween with friends and family.  I am very happy to say I even have a small stash of Butterfingers thanks to the generosity of my kids.
I'll end with a few wonderful quotes from Clara and Eleanor:
I have an almost complete disregard of precedent, and a faith in the possibility of something better. It irritates me to be told how things have always been done. I defy the tyranny of precedent. I go for anything new that might improve the past. -Clara Barton
You can often change your circumstances by changing your attitude. -Eleanor Roosevelt

Every time you meet a situation you think at the time is an impossibility and you go through the tortures of the damned, once you have met it and lived through it, you find that forever after you are freer than you were before.  – Eleanor Roosevelt