Archive for the 'kids do' Category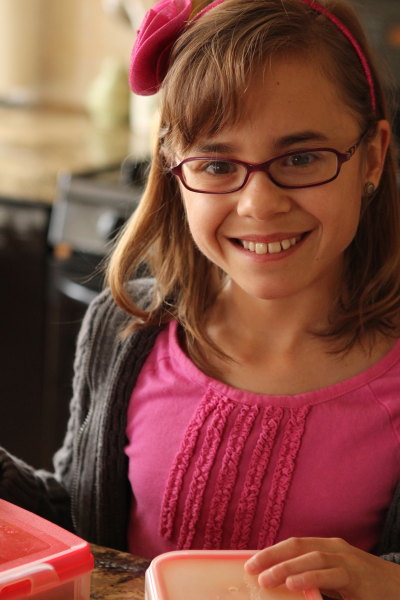 I'm happy today to be part of the Campbell's Soup "What's for lunch?" discussion.
Because if you're a mom, that's a question you hear just about everyday.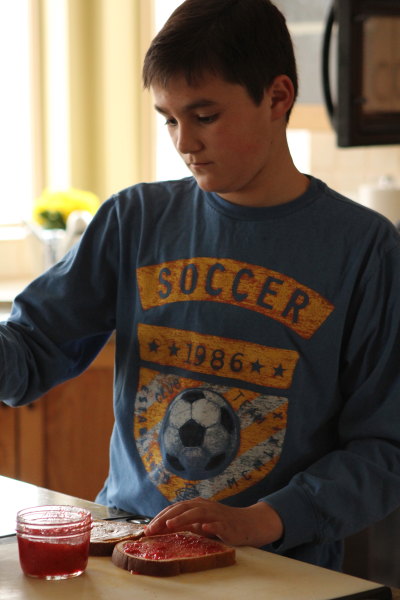 Do you ever wonder how much food goes into the garbage at your kid's school?
I shudder to think about it.  You can send broccoli or blueberries in your kid's lunch, but unfortunately, you can't make them eat it.
What's a mother to do?
The best solution I've found is to give my kids a big say in what goes into their lunches.
It starts at our house when making my grocery list.  I ask the question, "What healthy snacks do you want for your lunches?"  Each of my kids get a chance to add something healthy, that they like, to the list.
My kids are in 5th and 6th Grade and are old enough to make their own lunches.
The rules are, they need to take at least two fruits and vegetables.  I try to have fruits that are in season and cut up vegetables that are easy to pack in their lunches.  If I don't have fresh fruit, we always have home canned applesauce, peaches, or dried fruit like apple rings, mangoes, and fruit leather.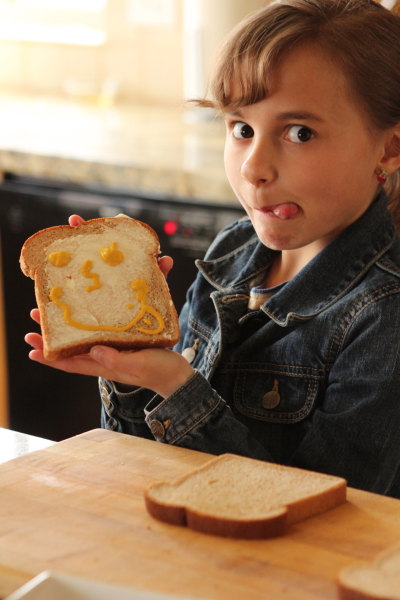 When my kids decide what goes into their own lunches, I think they are much more likely to eat what they pack.
We love our Thermos for taking smoothies or hot foods like soup or pasta.  Ben especially loves taking hot foods for his lunch.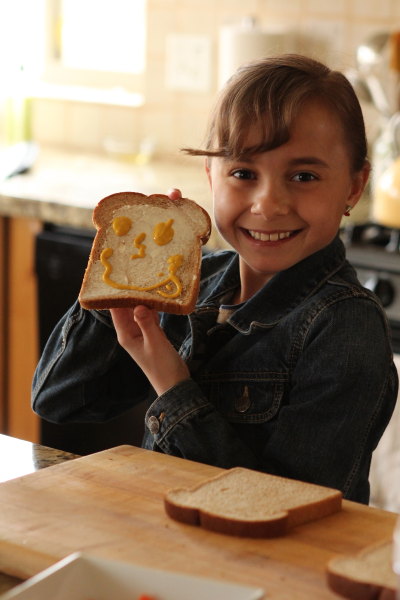 My girls love their sandwiches.
Since they are making healthy choices and are packing up their own lunch, I'm happy they are all getting just exactly what they want.
I think that "What's for lunch?" is more than just a meal, it's about teaching our kids to make lifelong, healthy eating choices.
- – – – – – – – – – – – – – – – – – – – – – – – – – – – – – – – – – – -
And now for a $50 Gift Card Giveaway sponsored by Campbell's® Soup.  To enter leave a comment on this post answering:
How do you get your kids involved in deciding what's for lunch?
The Rules:
Contest closes on Monday, March 18, 2013 at 10:00 pm MDT
Only one comment per person please.
Random winners will be announced on Tues, March 19
Thank you to my friends at Campbell's for sponsoring this giveaway!   Be sure to visit the Campbell's Soup website where you can find recipes, coupons, and more.
- – – – – – – – – – – – – – – – – – – – – – – – – – – – – – – – – – – -
This is a sponsored post written by me on behalf of Campbell's Soup.  All opinions and ideas are my own.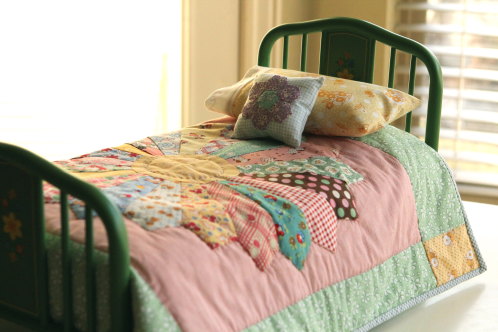 I've never shown the finished quilt that my 10-year-old daughter Emma made for her doll Ruthie.
She machine pieced the Dresden Plate and borders and appliqued the plate by hand.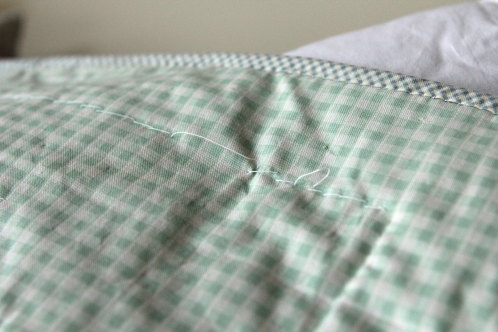 The other thing she did by hand was the quilting.  Yes, I did think about having her restitch this section.  I have concerns about its longevity ; ).  But I didn't have the heart to make her redo that much stitching.  By the time I spotted it, she'd gone on for inches.
Plus, it is so dear.  I love those big stitches.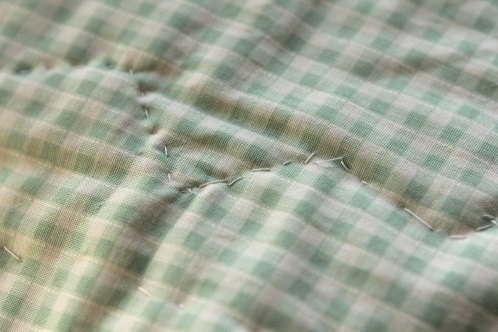 Practice really does make perfect.  Just look at how much her work improved!  Her hands are so small, it was hard to rock that needle back and forth.  I was proud of her that she kept at it.
She has been thinking about quilting it more… but decided to take a break before she decides for sure.
I told her it was up to her.  She is the quilter.  She gets to make her quilt exactly how she likes.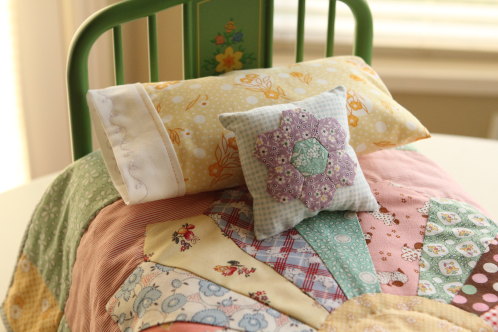 She even sewed a little hexagon throw pillow and pillowcase to match.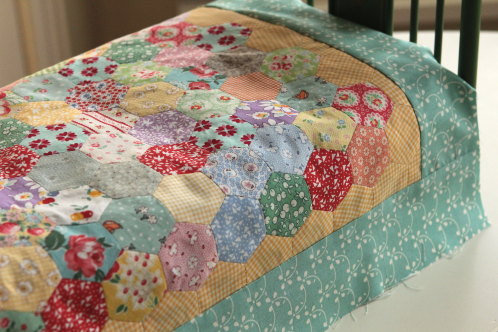 Lily also finished the quilt top for her doll, Kit.  She did such a beautiful job with the hexagons and her color choices.  It turned out so lovely.  Now for her hard decision- to hand quilt or machine.  Since her quilt was all hand pieced, except for the teal border, she is a little wary of hand quilting.
She is ready for some time on the sewing machine baby.
Again she is the quilter… and it's up to her.
They are both already planning 1940′s style quilts for their other dolls Molly and Emily…  both machine pieced.