Archive for the 'clean it' Category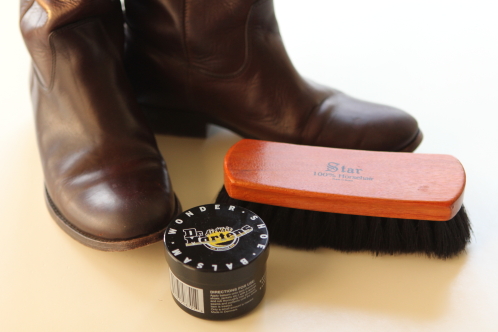 I'm just getting around to storing away some winter clothes.
Spring here in Utah is a roller coaster ride, 80 degrees one day and snowing the next.  All the old Utah gardeners will tell you that there is rarely a hard frost after Mother's Day.  It's safe to plant my tomatoes and basil and safe to put away my favorite leather boots.
The Village Cobbler in Salt Lake City has been part of my family for over 40 years.  Just about every kid in my family worked there at one time or another growing up.
Staffed with uncles and cousins, the Village Cobbler was a riot to work at, never a shortage of practical jokes, shoes to shine, and fun.
Working there taught me the value of a nice pair of shoes, to buy good quality leather and keep and take care of your shoes for a long time.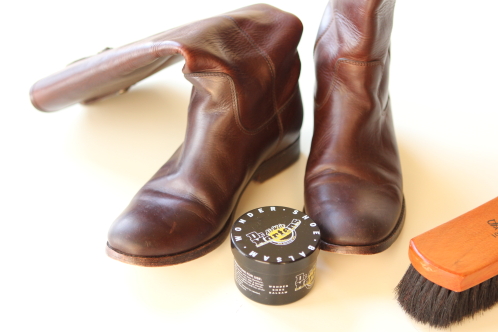 My favorite Frye boots are just that kind of shoe.  They are made well enough to last for years.  IF I take care of them.
After a long winter, of ice and snow and salt, they need some serious TLC before I put them away for summer.
These first tips come from my Uncle Rob, the owner of the Cobbler.  Say hi to him if you drop into his shop.
If you have any salt stains, take care of them ASAP.  For a homemade solution, you can clean your boots or shoes with a solution of 1/2 distilled water and 1/2 vinegar.  Clean and dry your shoes or boots thoroughly… then be sure to condition them well.
Condition your shoes with a high quality conditioner.  I love and use Dr. Martens Wonder Balsam which my Uncle highly recommends.  I never use colored shoe polish anymore, just Wonder Balsam.  Even when my shoes look completely scuffed, I use Wonder Balsam, and a shine up with a good quality shoe shine brush, and they're spiffy and new.  My uncle also recommends and uses Dubbin conditioners for shoes.
If you really want your boots to last a LONG time, take them in to your local cobbler (shoe repair) and have a 1/2 vibram sole put on.  Your soles will last forever… sometimes longer than the upper!
Speaking of cobblers, now is the best time to take your winter shoes in for repair, before you store them away.
When storing shoes or boots away, always use a shoe tree or stuff your shoes or boots with newspapers to hold their shape.
For my boots, after stuffing the foot with newspapers, I use rolled up old magazines to keep my boot's upright shape.  A great tip, I saw on Pinterest, is to use a pool noodle cut to fit.  But magazines are free, so that's what I use.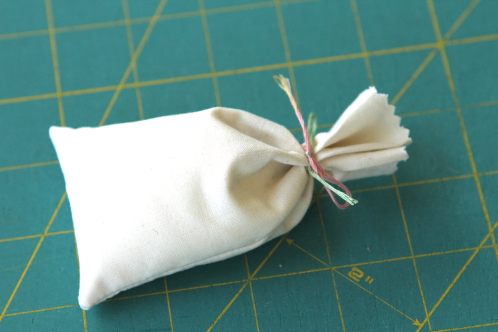 I also use a small sachet, filled with baking soda, one for each boot, to keep them dry and  deodorized.  I also added cloves, to make them smell sweet… and hopefully to deter any wandering spiders.  (I do NOT want to put my foot into my boot next winter and find a spider!)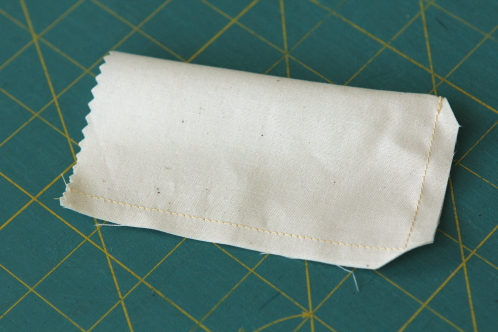 I made my sachets by cutting inexpensive muslin in a 5-1/2″ square.  I cut one side with my pinking shears.
Then fold in half and sew down one side and across the bottom.  Clip the corners and turn right side out.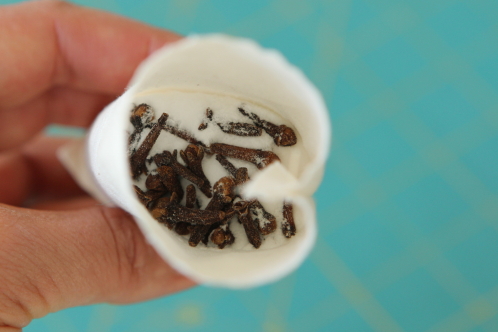 Fill the sachet with baking soda and cloves.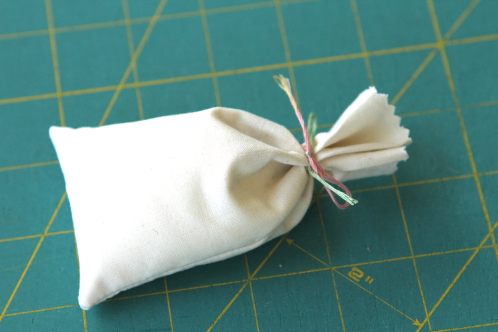 Tie off the top with string or ribbon.  And voila.  A perfect shoe sachet.  Making two only takes a couple of minutes.
When your boots are ready, you can store them away in the box they came in, or a storage box, to keep the dust away.
Now that my shoes and boots are safely stored, it's onto my sweaters and clothes…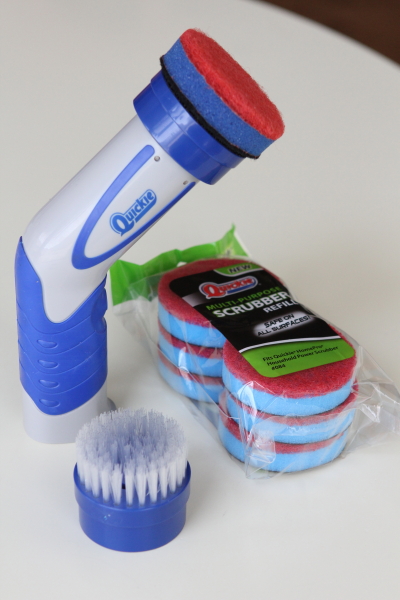 I love the opportunities I get from time to time to try out and review new products. Especially new cleaning products.
Recently, I received the Quickie Household Power Scrubber in the mail.
I opened it up and couldn't wait to give it a try.  It felt sturdy and well made.
But no sooner had I opened the package than my girls came in… "What's that Mom?"  "Can I try it?"
"Can I clean the sink?"
"What?  Can you clean the sink?  Uh, yes!"
Normally Saturday mornings are our cleaning day.  That's when we clean bathrooms, dust, mop, and make our home sparkling clean.
But the past two Saturdays have been crazy busy, we've been gone from morning 'til night.  So our bathrooms have only had quick wipe downs, not a good cleaning.  Clean away Emma!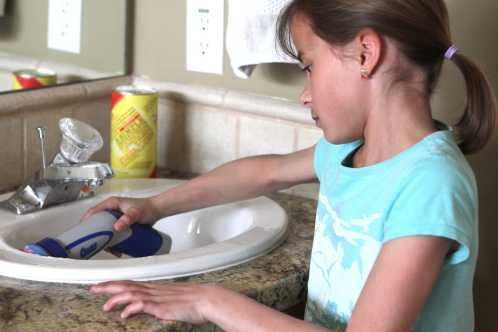 How nice is it to have your child want to clean?
Emma got right to work on my sink.  The Scrubber was easy enough to use, she didn't need any instruction.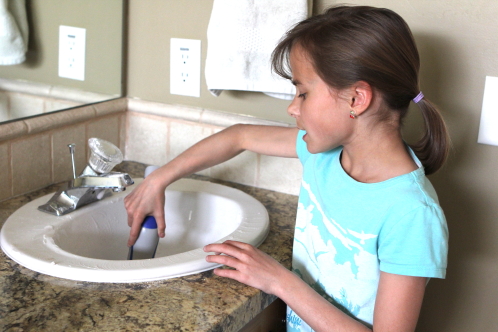 Emma loves to sing as she works.  I think she is singing "Ring of Fire."
She's a big Johnny Cash fan.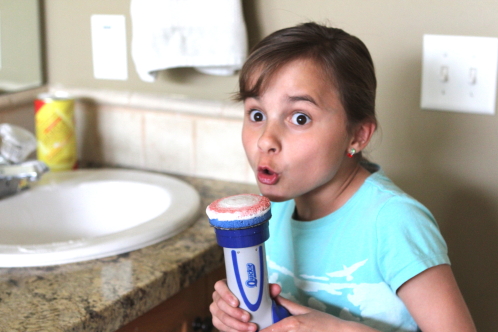 OK!  She is really getting into Johnny Cash…. and the Power Scrubber microphone!
According to Emma, the Quickie Household Power Scrubber makes cleaning "way fun!"
When turned on the Power Scrubber rotates in a powerful circular motion.
It comes with a Multi-Purpose Scrubber is like a sponge scrubber.  It is super easy to replace since it has a Velcro backing.
It's also easy to pop off the Scrubber and replace it with the brush cleaning head.
Another nice feature is that it's fully submersible.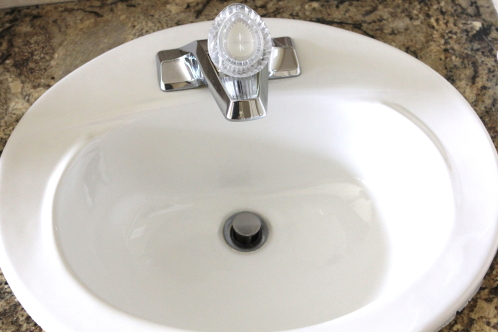 "I'm goin' to Jackson" notwithstanding, my sink was sparkling clean.
When my husband saw the Scrubber, he said he'd be happy to clean with it.  For some reason, he's happy to do any cleaning job if there's a power tool is involved.
I was talking about the power scrubber with a friend.  She has Crohn's disease and had struggled with her health.  Jobs like scrubbing the shower can really wear her out.  She loved the idea of the Power Scrubber to make those weekly cleaning jobs easier.
The Quickie Power Scrubber can be purchased here at Walmart online or in the store.
There's nothing like Spring to make me want to Power Scrub my whole house!
- – – – – – – – – – – – – – – – – – – – – – – – – – – – – – – – – – – -
This is a sponsored post by Quickie.  All opinions and ideas are my own.